1 - 2D to 3D meetings (Future of Work)


Everyone becomes a power user sharing one or more screens, simultaneously! Shared YouTube videos are received directly from YouTube servers for more quality. Volume control, stop and play is also at everyone's reach. Convinced?

We offer productive meetings up to 10 participants, no more!
2 - Information Management (Future of Work)


Work related files in this square, domestic documents in another, fun stuff in a third square, easy and intuitively! Add to the hierarchical data structure a spatial configuration to get to your important information quickly.

Organize your information as you do in the office or at home, in 3D!
3 - Simultaneous Meetings (Future of Work)


A meeting with your closest work colleagues can be always on standby to ease reaching out when in a meeting with clients. Family and friends can also request assistance at any moment without disturbing.

Our 3D workspace enables multiple meetings, active or on standby!
4 - Virtual Reality (Future of Work)


After going from 2D to 3D, let's try now going to VR! The potential is huge but the challenge is to improve comfort and productivity.
We are just starting now exploring the huge potential of AR/MR...

The standards are evolving but we bet on WebXR - DOM Layer!
5 - Augmented Reality (Future of Work)
We are getting our Quest Pro ready...
Contact us at
info@umniverse.com
Finally using AR for productivity at work!
WebSummit 2022 - Stand A109, 4th of November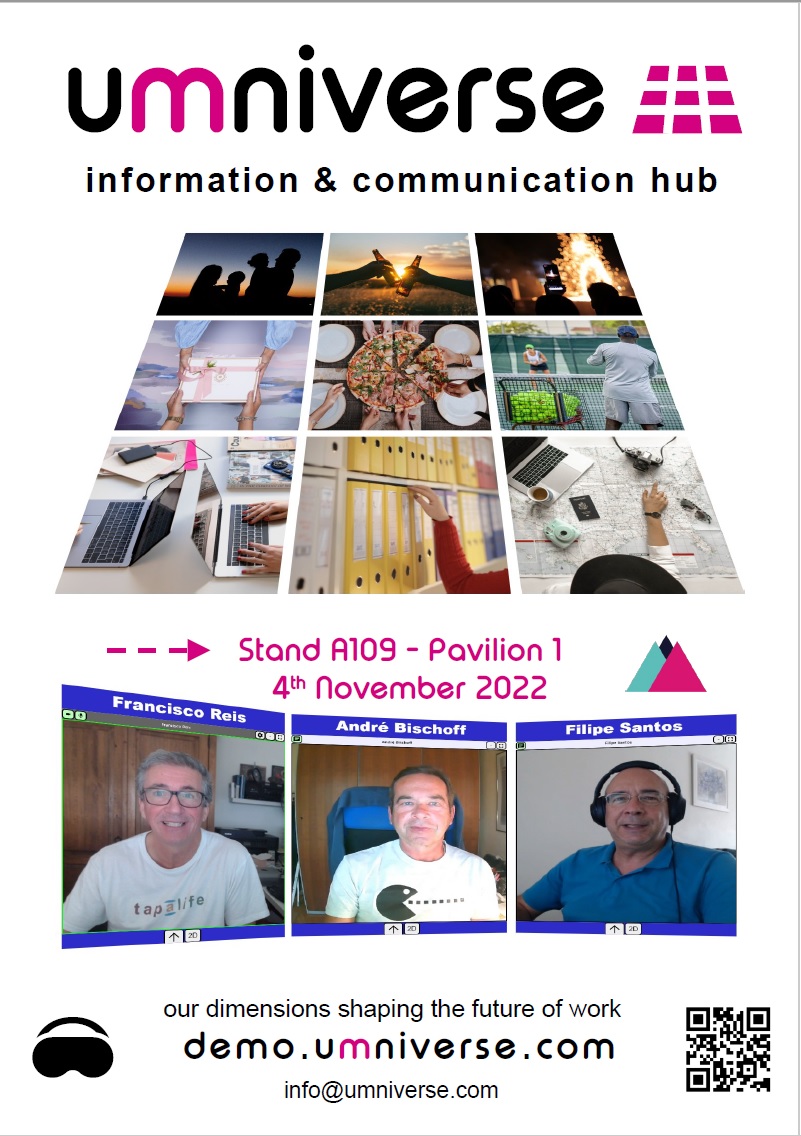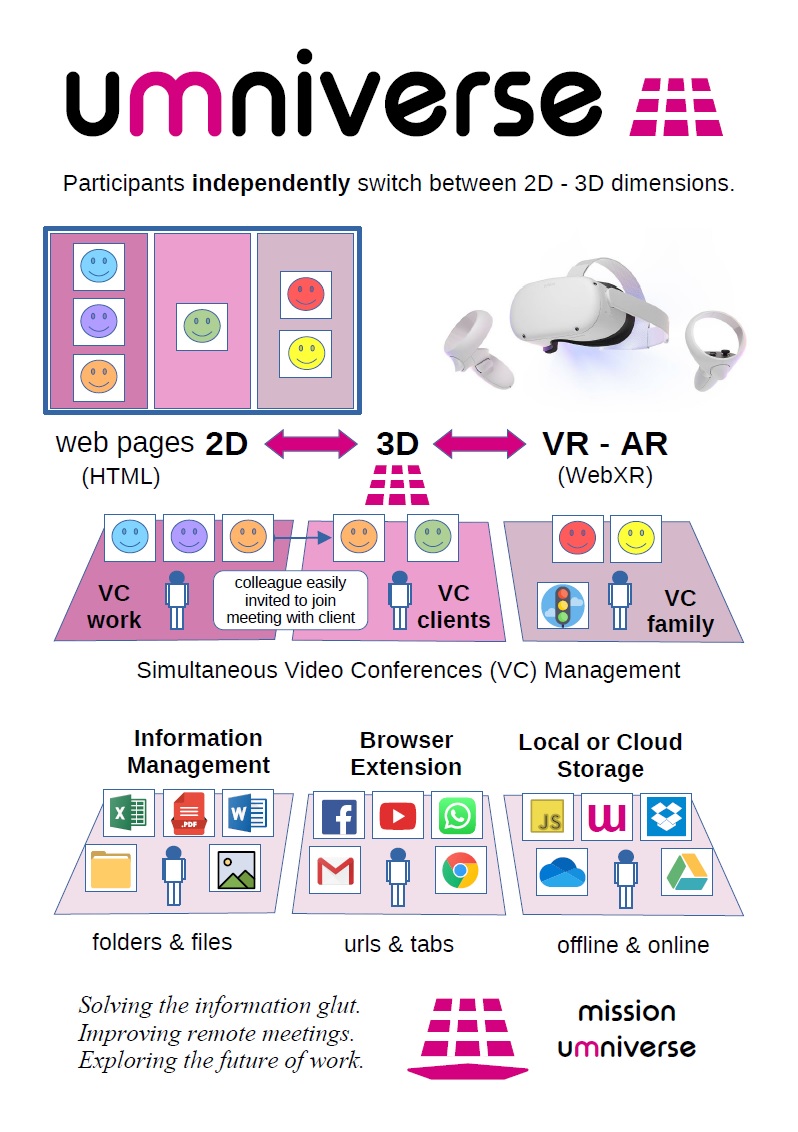 Switch to the universe you prefer: 2D, 3D or VR


We believe in a transiton where some will move to 3D to be more productive and occasionally to VR. Each participant in its prefered dimension

Web pages in 3D can be richer and easier to navigate!


Watch how easy it is to get into VR and then back to your office. With Augmented Reality you can even be in both!

Web pages in 3D can offer you a more productive workplace!
Future of Global Schools (also in Umniverse)
The most wasted resource in classroom education? The students!
With
AR@School
we make classes much more dynamic.
Then, with classGroom we open traditional classrooms to students all over the world. Quality education for all can be reached before 2030!
Future of Higher Education (also in Umniverse)


How to quickly setup students activities, choose topics and organize groups?
With our AR markers system we even have time for racing among groups ;-)

See how only 15 markers can disrupt a class with more than 30 students!!!
Feeling lost? Umniverse also has indoor navigation!
Great for Smart Hospitals!
Have your site in 3D or VR!!!
Example
: show a site, like
https://meddia.com/flex25.html
, in 3D Umniverse!
Encode your URL here
Append the result to https://umniverse.com/3d/... so we have the following link:
https://umniverse.com/3d/https%3A%2F%2Fmeddia.com%2Fflex25.html
That's all, you can now use the new URL!
NOTE: sites preventing IFRAME embedding must include in response Headers:
X-Frame-Options: ALLOW-FROM https://umniverse.com/

Content-Security-Policy: frame-ancestors https://umniverse.com/
(setting response headers depends on your type of web server)
Don't trust what you see, our secret is in our backend!




Fully Object Oriented backend running on Java AppEngine.